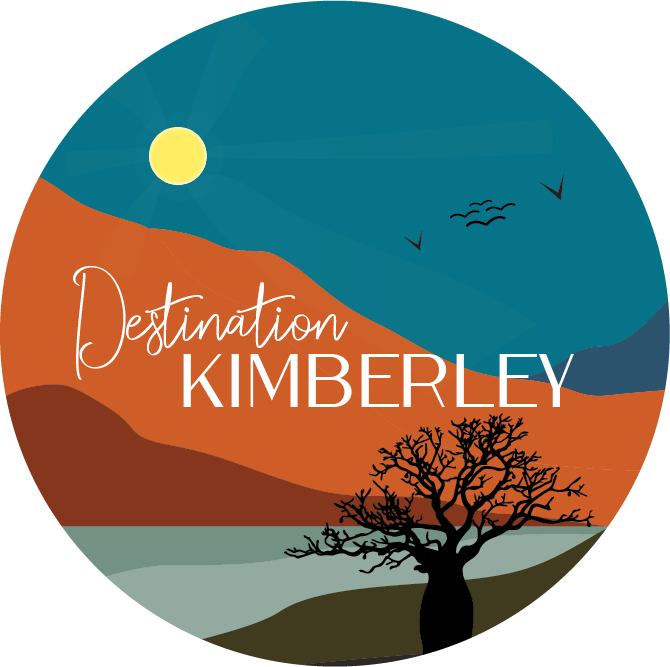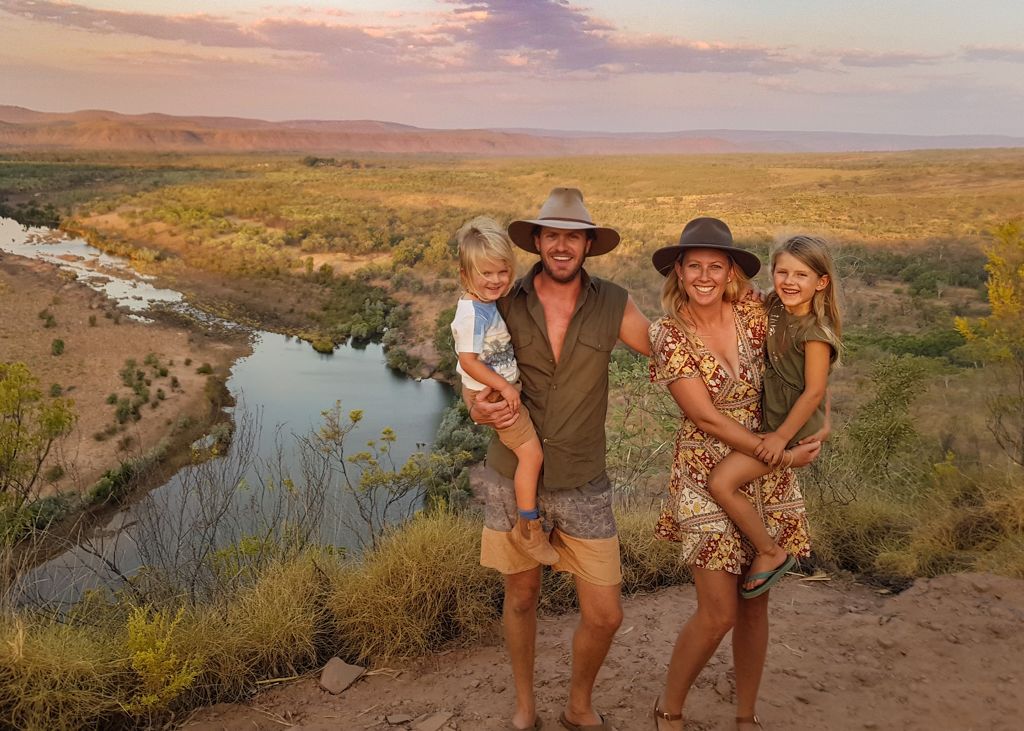 7 Family Friendly Places in the Kimberley
Ahhh, the Kimberley. This place will knock your socks off! It's one of Australia's 'must see regions' if you ask us, and a fantastic destination to take your family.
It's full of jaw dropping vistas, crazy red Pindan dirt, funky looking Boab trees and a variety of unique experiences – both with the local indigenous people and also wildlife encounters. It's safe to say you will leave covered in red dust but bursting full of awesome memories and some Kimberley magic imprinted on your heart.
With an area 3 times the size of England (yes, ENGLAND x3!!), there are loads to see and do here. We spent a good few months experiencing all that we could and see our 7 must-see places to take your family below: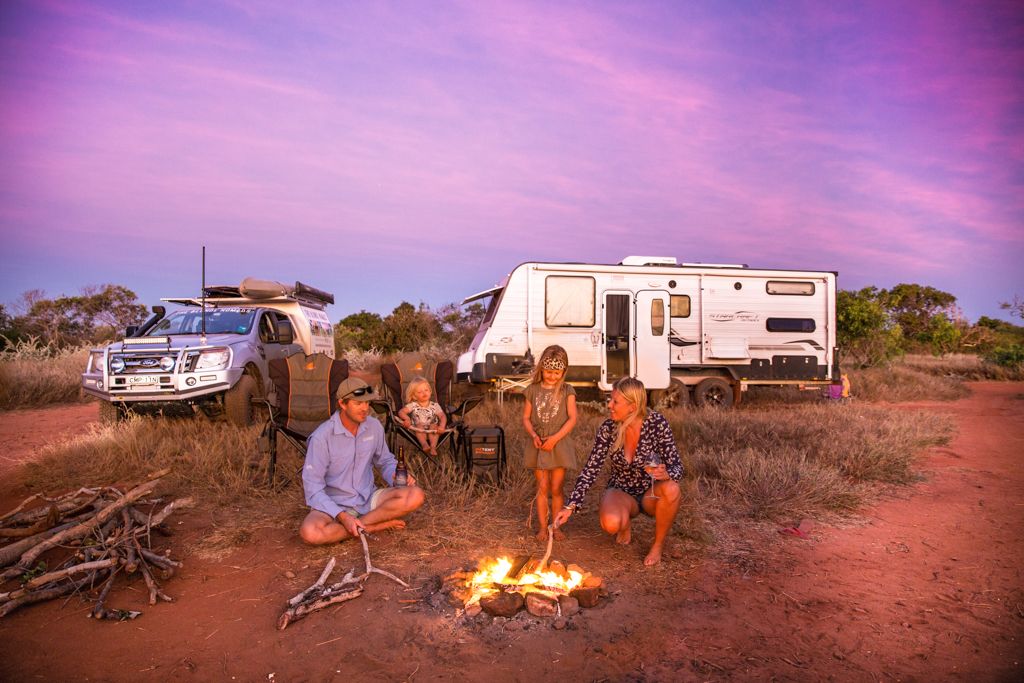 The sunsets were A-mazing at our water front free camp – what a backyard huh!
1. Cape Leveque and The Dampier Peninsula
Famous for its red dirt, vibrant blue water and remote awesomeness, this whole Peninsula needs to be explored. We braved the bumpy corrugations (which we believe will soon be tarred) and spent 7 days enjoying the area.
Our first camp was a free camp at James Price Point followed by Cygnet Bay Pearl Farm. Our days were full of 4×4 adventures, mud crabbing, spear fishing and cooking our catch over the hot coals of our camp fire – can it get any better? We think not!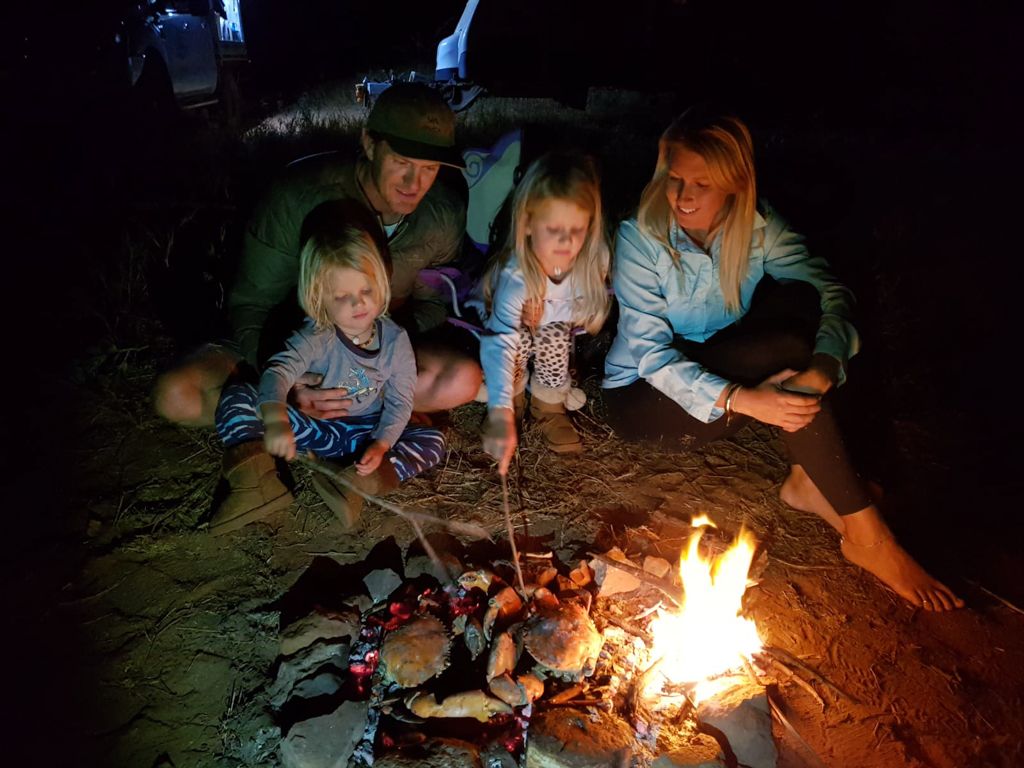 Cooking our mud crab catch over the hot coals of our camp fire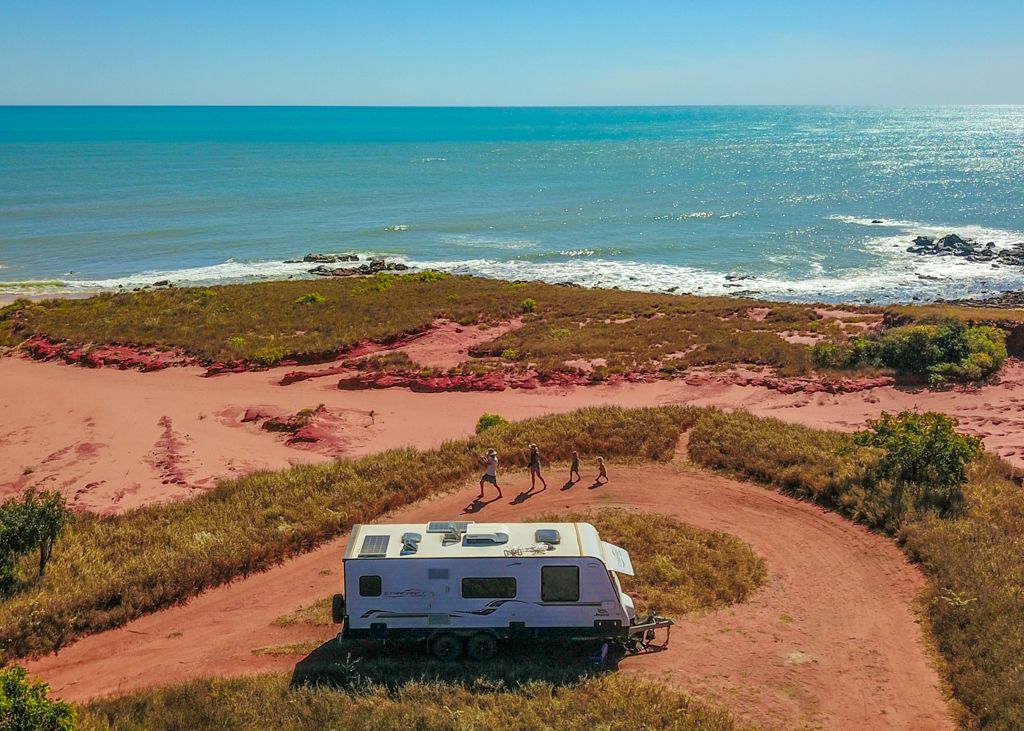 This is one of our most favourite camps at James Price Point on the Dampier Peninsula
One of our favourite experiences was an indigenous walking tour with Terry Hunter at Cygnet Bay Pearl Farm. Terry is a proud Bardi man, 4th generation worker on the farm and all-round legend. He took us exploring through the tidal flats, showing us how to find fresh water and forage for food.
We also explored the amazing Kooljamon – a remote wilderness camp owned and run by the Indigenous Bardi Jawi Communities, as well as the Trochus Shell Hatchery at One Arm Point. We recommend dedicating at least 3-4 days in this area as you won't want to leave – trust us!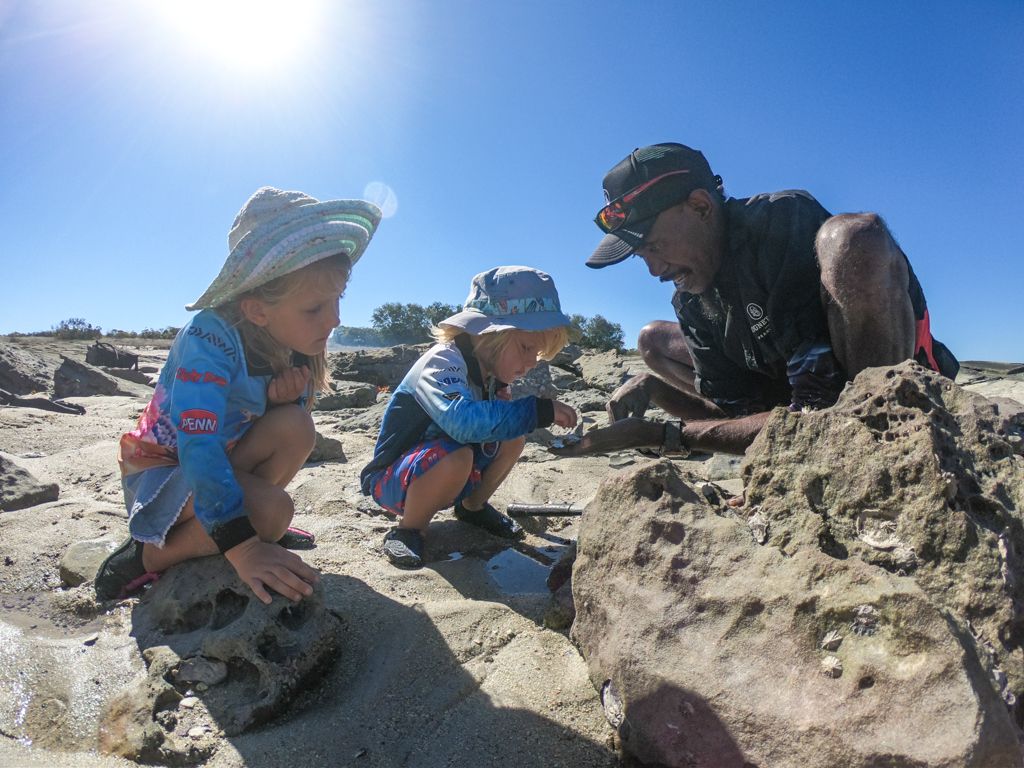 Eating fresh smoked oysters – a huge highlight was this Indigenous walking tour with Terry Hunter
No trip to the Kimberley is complete without visiting Broome. The town has so much charm and loads of history. A few must do's included watching the famous Camel Trains meander past as the sun sets over Cable Beach. If you're game you can even join the party and jump on for a ride!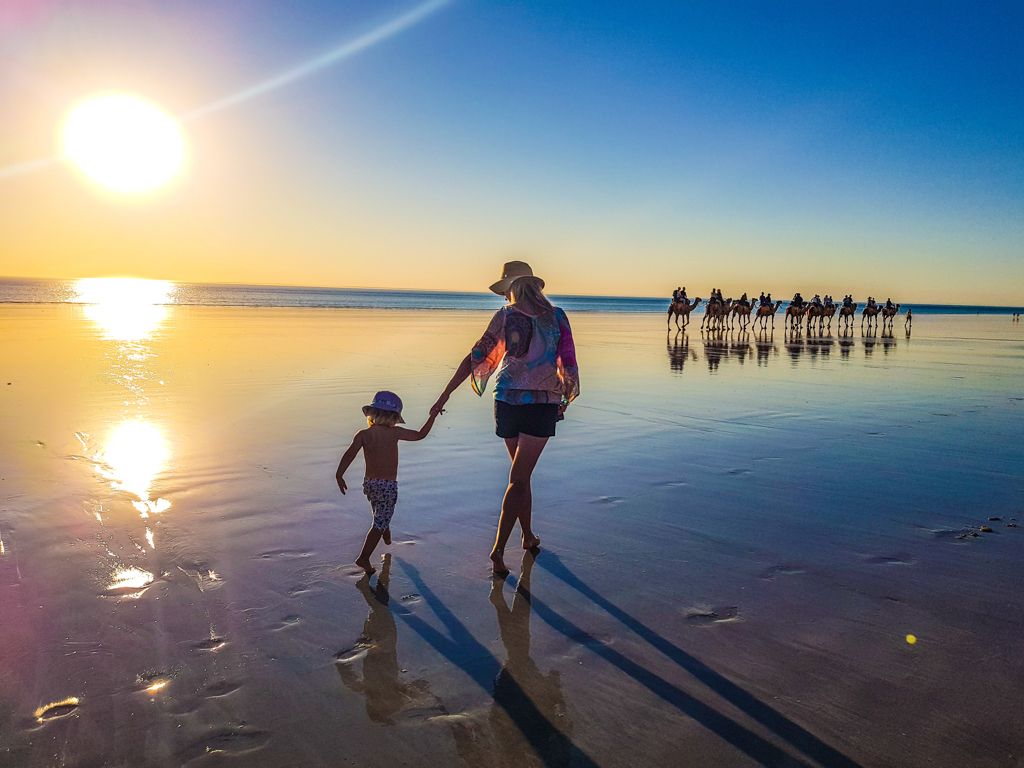 Sunset on Cable Beach is a must see when visiting Broome
We timed our visit to Broome in line with the full moon, which gave us the added treat of viewing the famous 'staircase to the moon'. The best place to do this is at the Night Markets, where you can watch the moon rise over the water while enjoying dinner from the local food stalls and listening to good tunes from the live performers.
Discovering the fossilised Dino prints at Gantheaume Point, Broome
A visit to Gantheaume Point at low tide is a must to view the fossilised Dinosaur footprints, followed by a visit to the Japanese cemetery, the old jetty and some shopping at China town. Of course, all this has to be washed down with a Mango beer from Matso's Brewery – Cheers to that!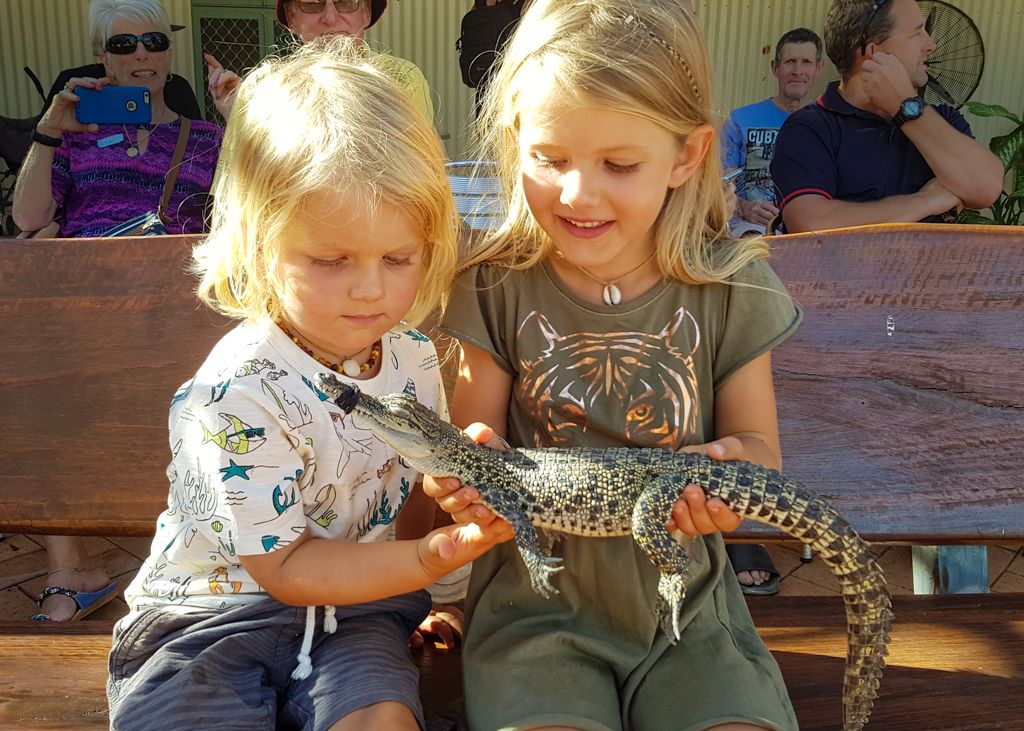 Holding a baby saltwater crocodile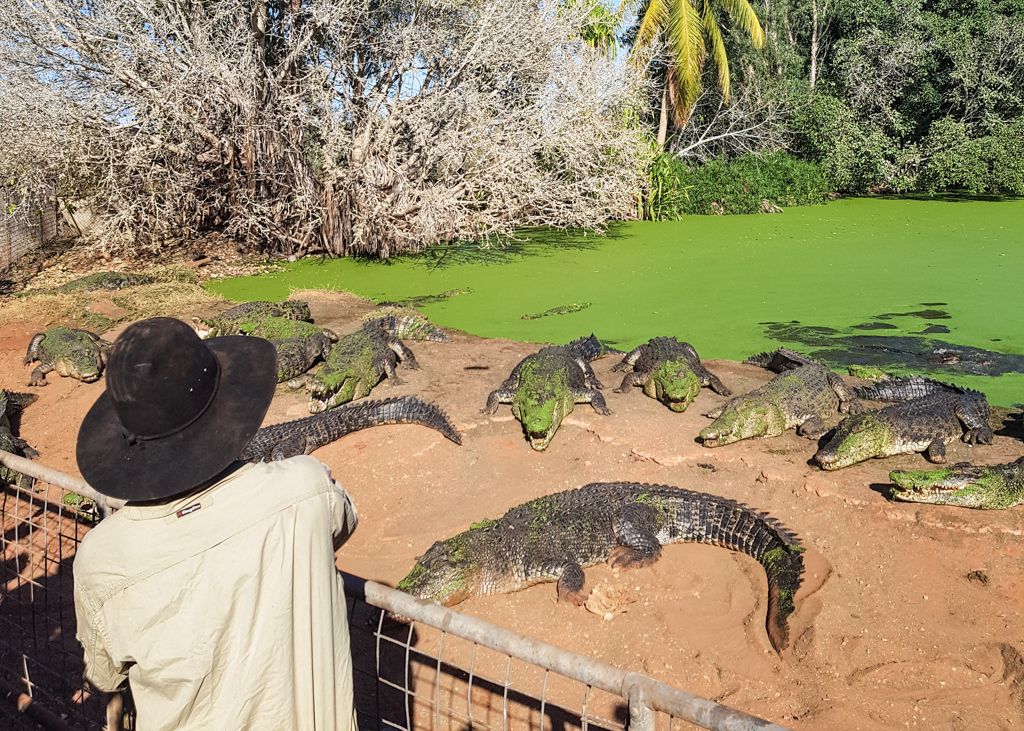 A visit to Malcolm Douglas Crocodile Park is a great way to see and learn about crocodiles
A short drive away you will also find the famous Malcolm Douglas Crocodile Park. We loved this place that is full of crazy Crocs and other Australian animals. We highly recommend that you visit a croc park when travelling this country, not only to see these huge prehistoric dinosaurs up close, but to also learn how to be croc wise in croc country.
There's no doubt that Windjana Gorge National Park is one of the Kimberley's most stunning places. But, it's what lurks on the banks of the river that was the major drawcard for us. Loads of fresh water crocodiles can be found here usually sunning themselves along the waterline, giving you an up close wild experience no other place can provide.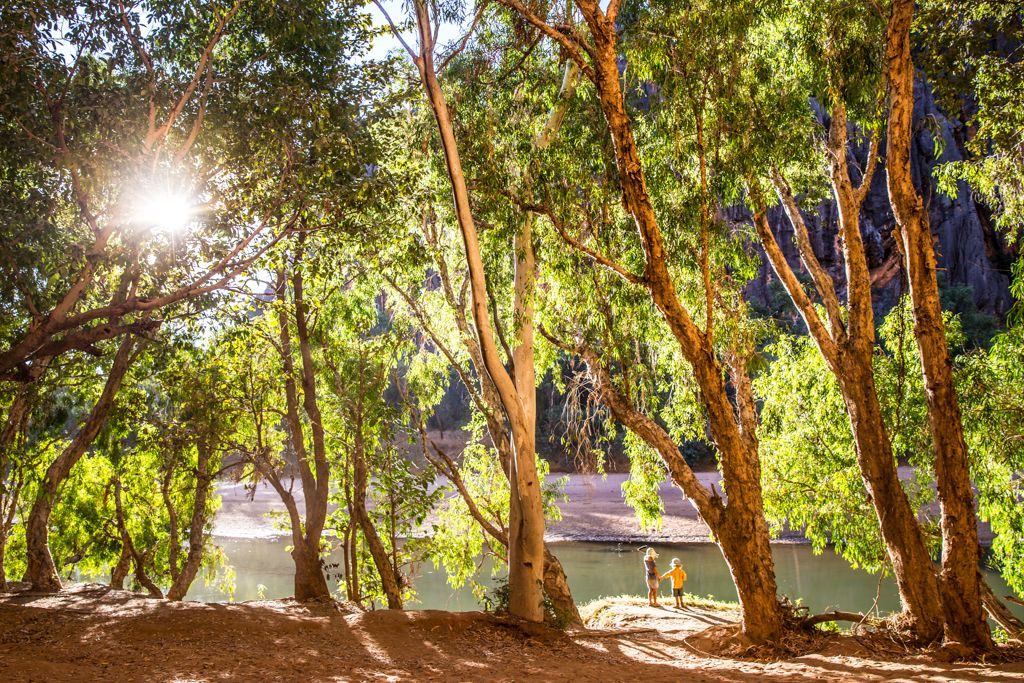 Croc Spotting – loads of fresh water crocodiles can be found along the banks of Windjana Gorge
While keeping our distance we snapped a family selfie with a few sleepy Crocs on the bank – fancy a Croc selfie anyone? (Please note that keeping a safe distance at all times is recommended and also enforced by the park rangers).
We camped the night here at Windjana Gorge, enjoying the magic of this region and marvelling at the clear Kimberley night sky full of a million twinkling stars.
4. Tunnel Creek National Park
This place is unreal, and yep, just as its name suggests, Tunnel Creek is a huge limestone tunnel with a creek flowing through it – but that's not all!
To experience this age old reef system you have to be prepared to get wet, and a head torch is a MUST. The trek through the tunnel runs underground for about 750 metres and at times, has you waist deep in chilly water! (So parents, you may want to use a carrier like us for your smaller or shorter kids).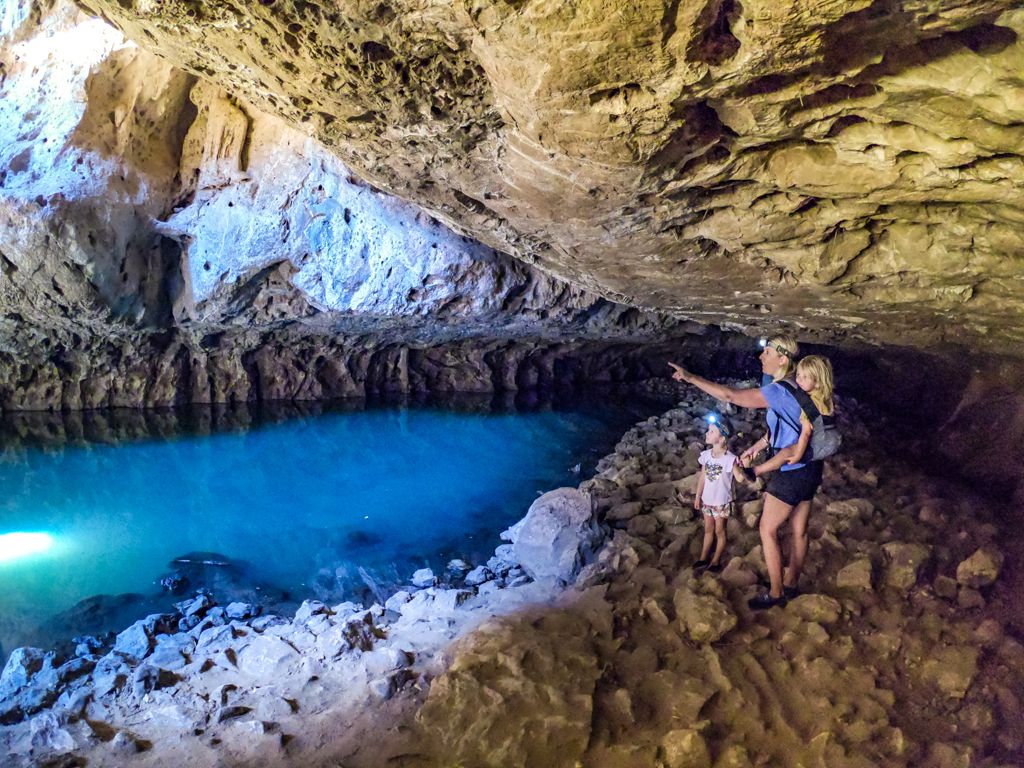 As you wade through the tunnel, keep your eye out for little red beady eyes staring back at you, as these are most likely (harmless) Freshwater Crocodiles!! Eeek!
At least five species of bats also call the caves home, and with all the stalactites and hidden holes in the tunnel you can see how the famous Aboriginal outlaw Jandamarra successfully used this cave as a hideout for years.
At the end of the cave system you are rewarded with a hidden oasis to enjoy a bite to eat and if you take the time to look around the rock walls you may spot some aboriginal art too.
We made it through to the end of Tunnel Creek – now, to walk right back through again!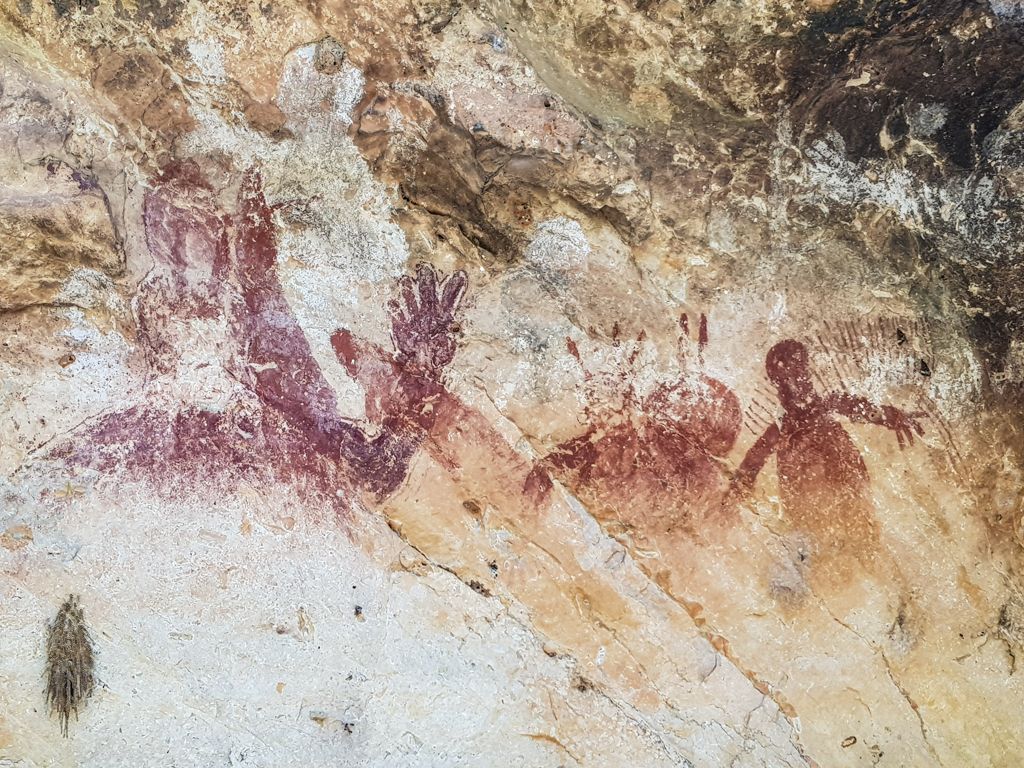 The reward at the end of the tunnel – aboriginal art on the rocks.
 
5. El Questro Wilderness Park
Located in the East Kimberley, El Questro is 700,000 acres of vast, breathtaking terrain. We stayed here for four nights and we loved every moment!
Our first stop was a visit to Zebedee Springs, which is open to the public from 7am – 12pm daily. We recommend going as early as you can. Starting at the top pool we worked our way down soaking in the mineral rich thermal water and marvelling at the red cliffs and lush palms surrounding us – It's just like mother nature giving you a big warm hug – divine!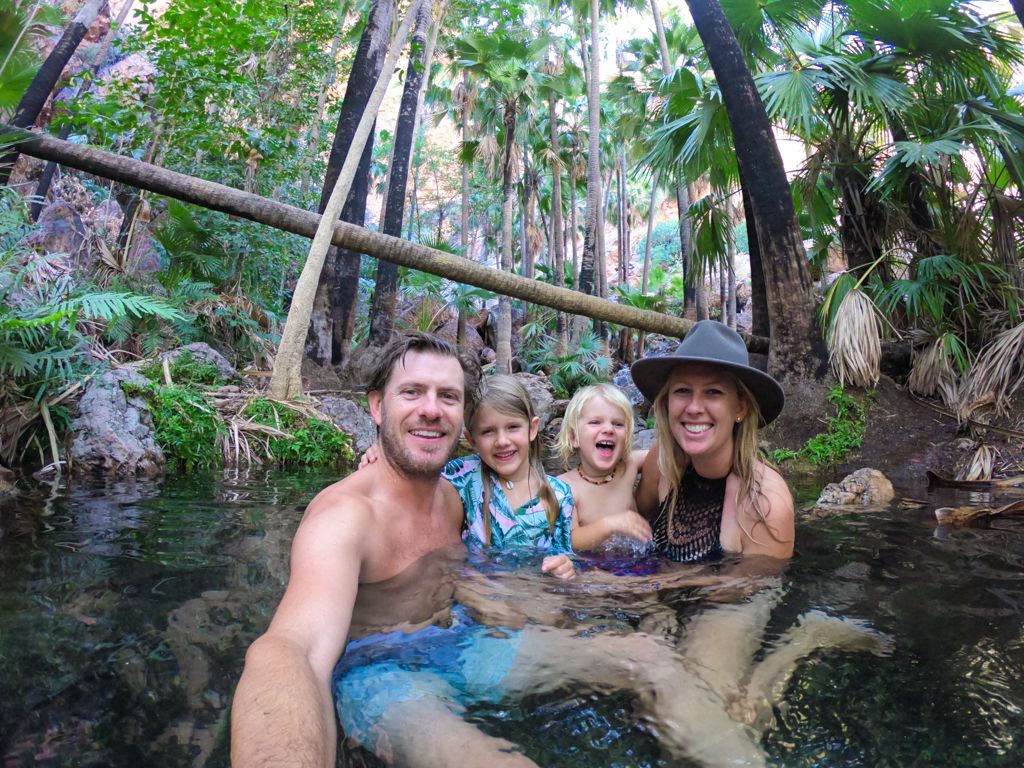 Soaking in the mineral rich Zebedee thermal springs at El Questro is magic
A trip to Branco's lookout will have you in awe of this magnificent county as you watch the sunset over the never ending valleys. Far below us in the river we spotted one huge mother of a Croc ruling his territory and making sure we all knew he was boss! If that doesn't leave you with fond memories, navigating the steep and bumpy 4×4 drive back to camp in the DARK sure will!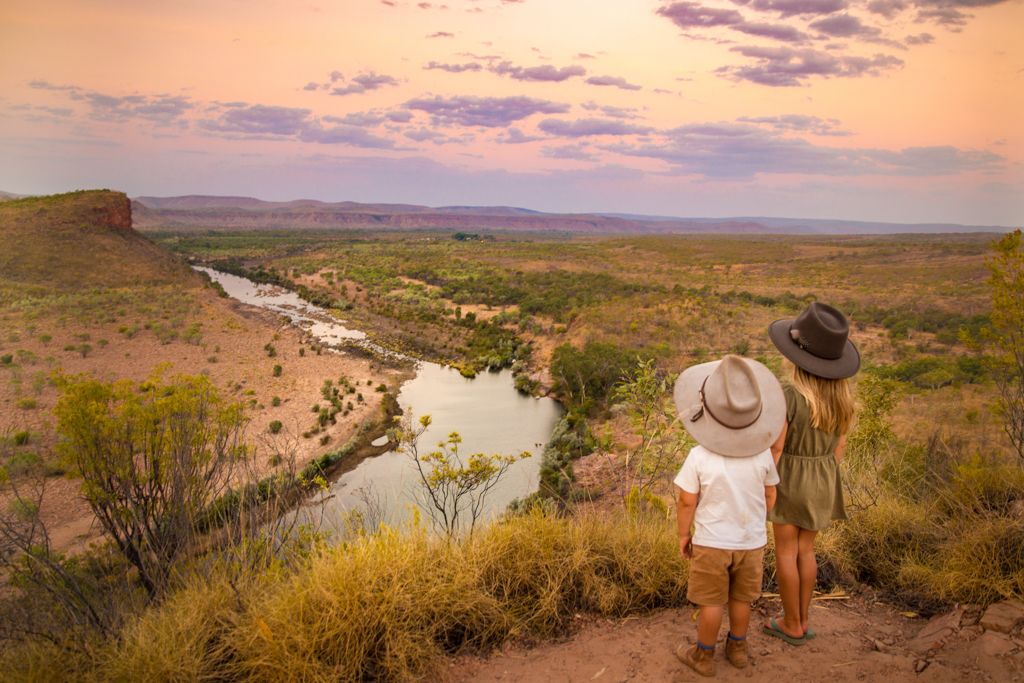 Taking in the magic of Branco's lookout at sunset is a must do
A cruise down Chamberlain Gorge is also highly recommended as well as tackling a few of the epic walking tracks. One of our faves was Emma Gorge which leads you to the base of a 65m waterfall. Make sure you find the small thermal water outlet, in the pool that trickles out from the edge of the water to the right.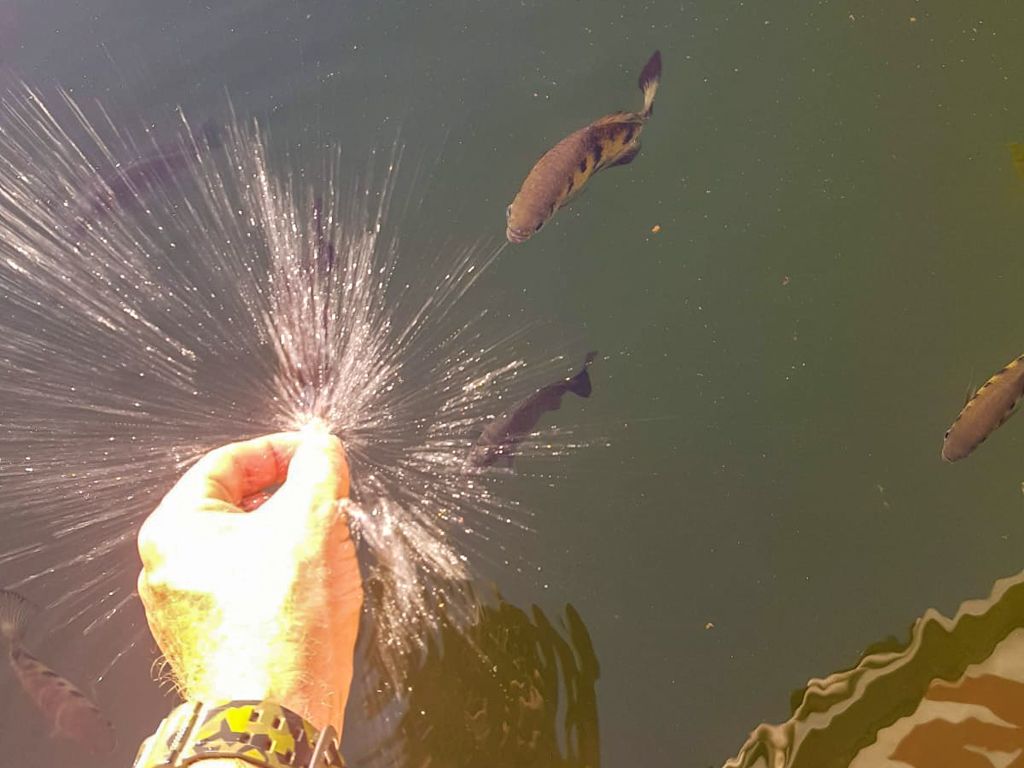 A cruise down Chamberlain Gorge will not disappoint with these Archer Fish and their awesome water spitting aim!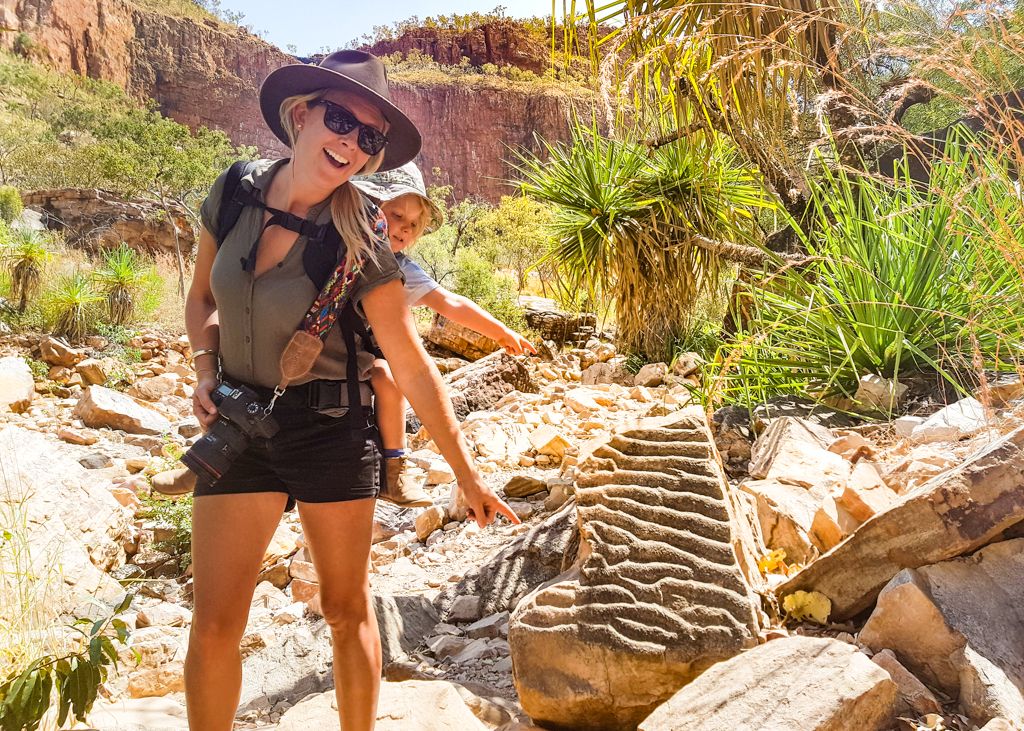 Finding ripple rock on our Emma Gorge walk
(Please note, as with all walking adventures in the Kimberley, make sure you start early to take advantage of the cooler parts of the day and pack loads of water as it can get very hot).
6. Bungle Bungles and Cathedral Gorge
You have to do the Bungle Bungle Boogie baby! Packing our tent and camping gear, we waved goodbye to our caravan for a few days and tackled the crazy 4×4 corrugated track to explore Purnululu National Park, which is also a World Heritage Site.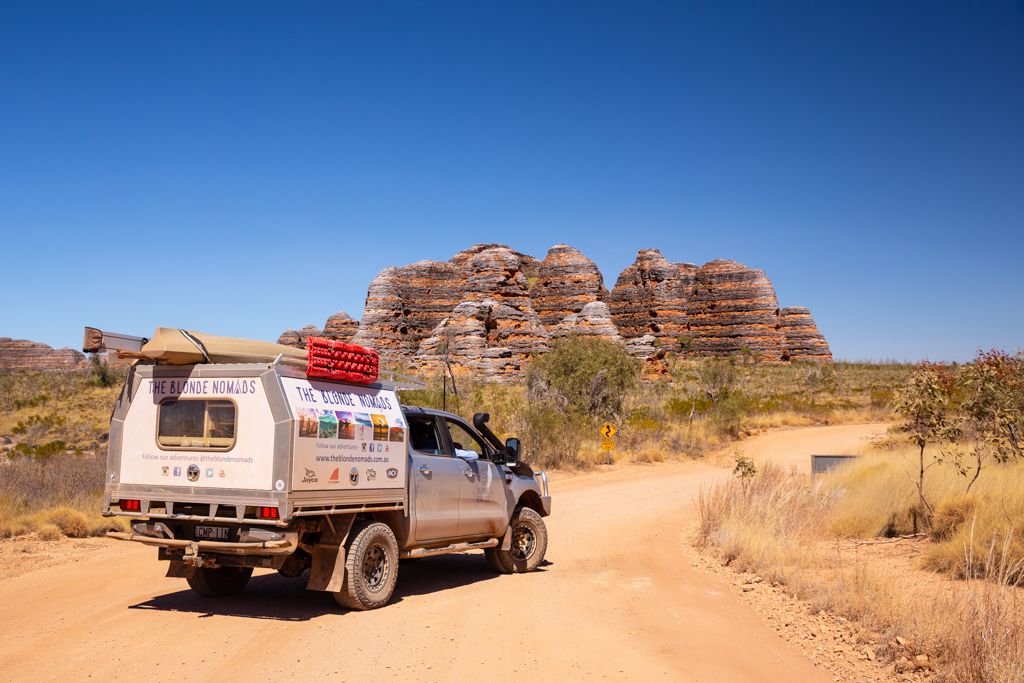 The famous Bungle Bungles are a World Heritage Site and amazing to see up close
The Bungle Bungles can only be described as huge orange and black striped 'beehive-like' mounds and when you see these badboys up close there really is nothing like it.
A walk into Cathedral Gorge takes you past the monster beehives with a finale in the biggest cathedral shaped cave we have ever seen, and the acoustics here are sensational! Photographers – make sure you bring a wide-angle camera lens or your gopro to get it all in your shot.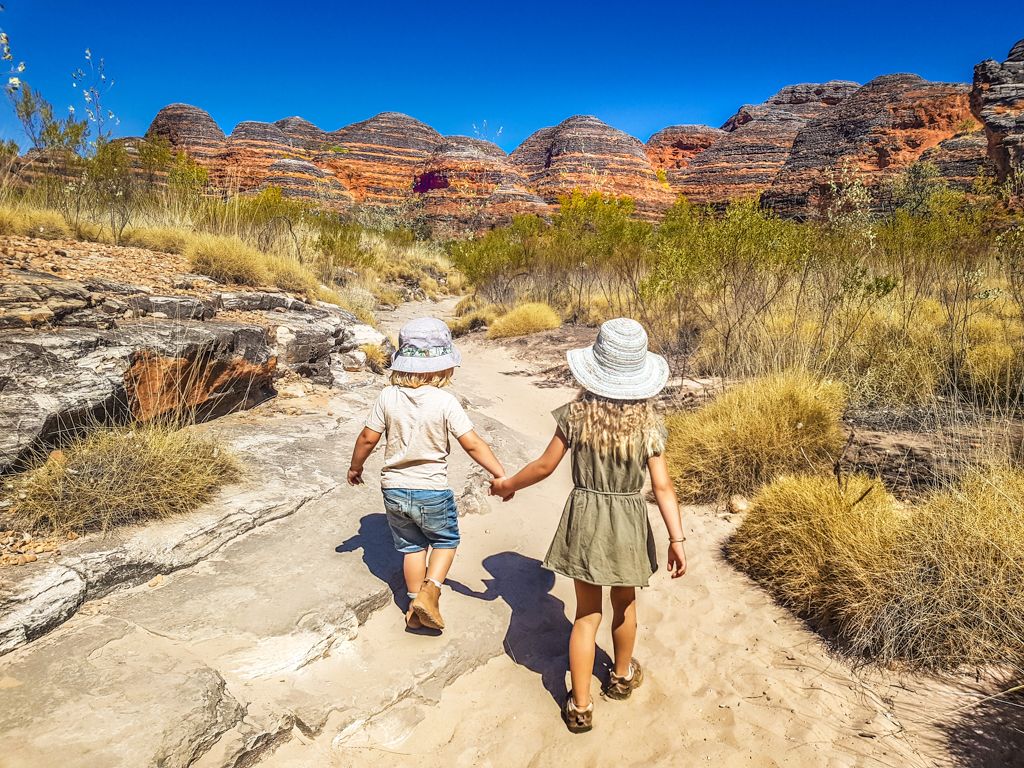 To our surprise our favourite part of this national park was Echidna gorge – a place we had not heard about. It's a spectacular long, narrow chasm full of striking colour variations, depending on the angle of the sun.
The landscape here feels very 'Jurassic Park-esque' and we expected a  Pterodactyl to do a fly-by at any moment!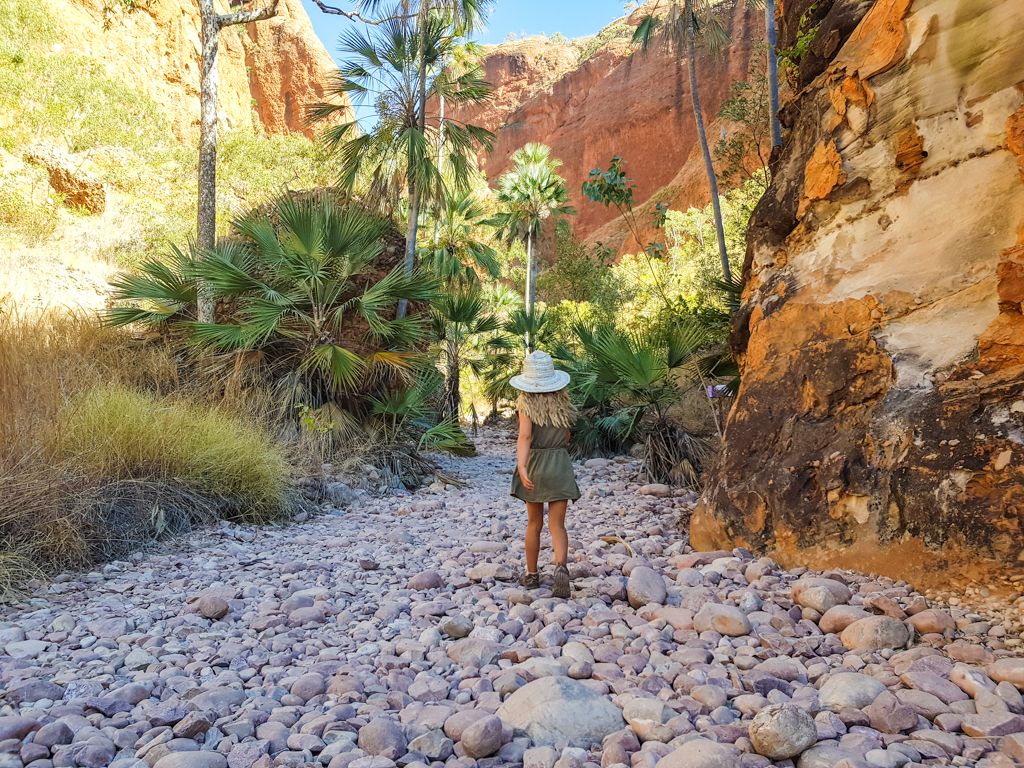 The start of Echidna gorge walk, our favourite part of Purnululu National Park
Hoolie-Ba-Goolie guys! Last but not least on our list is this huge, huge, huge freshwater lake, 'Lake Argyle'. It was formed by the damming of the Ord River system that in turn created an amazing marine environment.
Classified as an inland sea it can hold a staggering 32 million cubic metres of water! How much is that I hear you ask? That's more than 20 times the size of Sydney Harbour, AND this baby can even be seen from space! #mindblown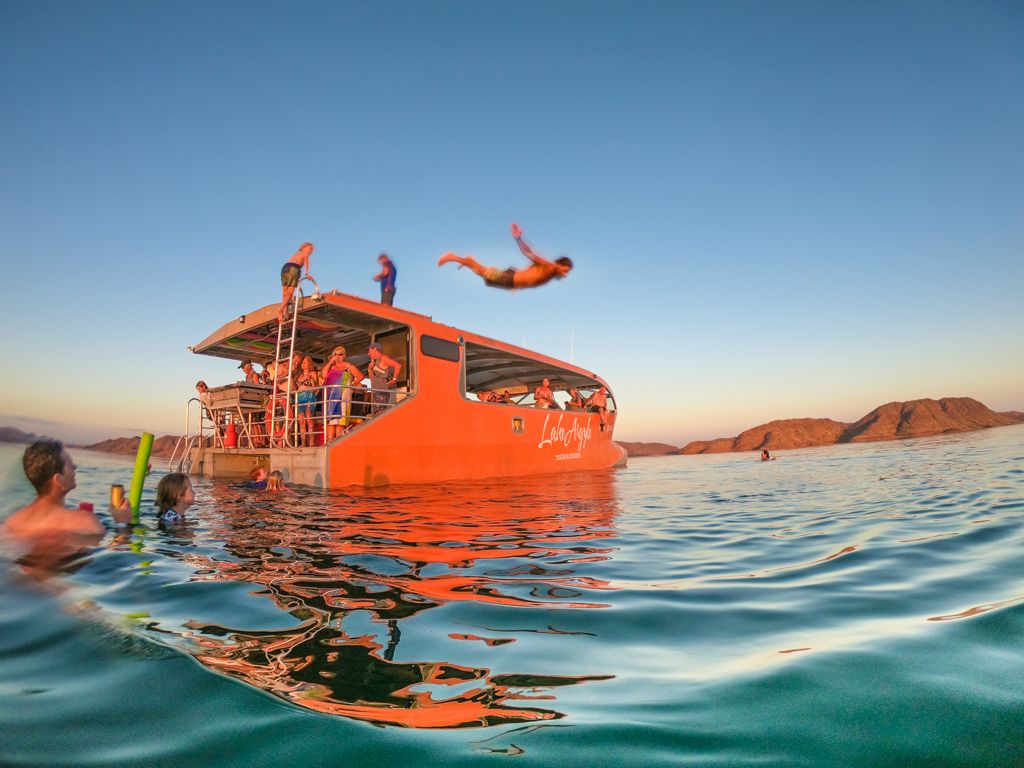 Rob channeling his inner Superman – We swam with 30,000 fresh water crocodiles in Lake Argyle, would you?
It's not until you take to the water on a wildlife cruise that you can get a true sense of just how big it is. We had a great time seeing the sights which includes spotting a few of the 30,000 fresh water crocodiles that call this lake home as well as fish, wallaroos and over 240 species of birds.
On the cruise you get to enjoy a few nibbles and drinks and if your game – like us – jump in for a swim as the sun sets, it sure is magic and something you have to experience.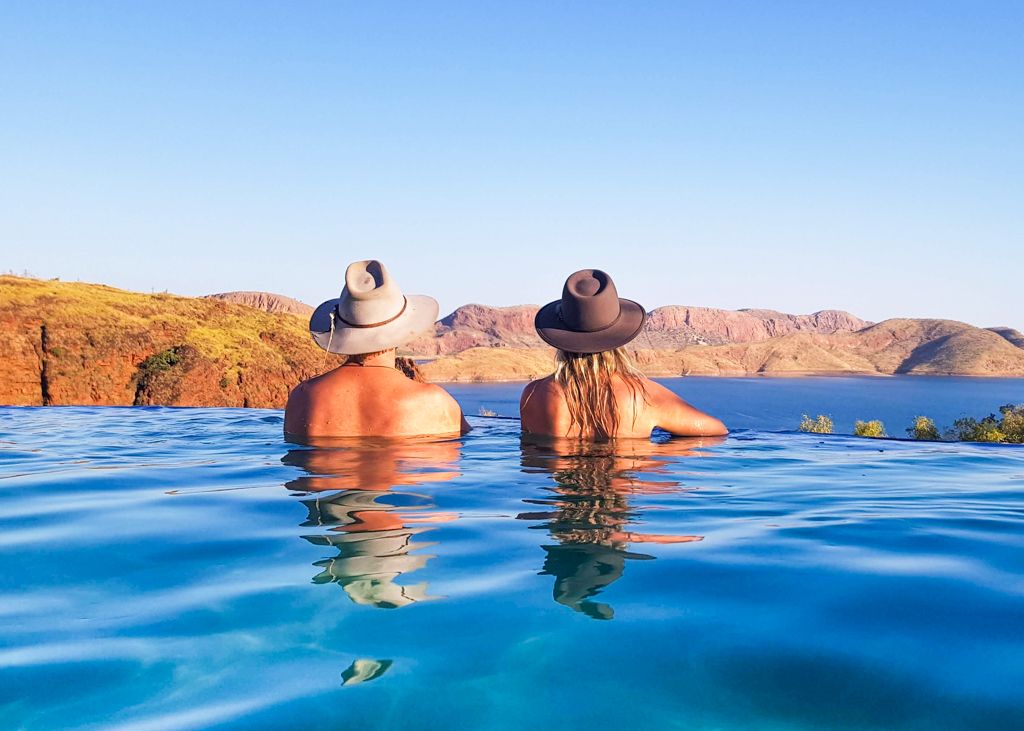 One of THE BEST infinity pools in Australia – you HAVE to try this
We stayed at Lake Argyle Caravan Park which also features one of the best infinity pools in Australia as well as some great nightly entertainment and food.
Totally Kick-ass huh?!
Yep, we told you that it was awesome! We hope you are now inspired to go and explore this epic part of Australia for yourself, and if you have already been – there's no doubt you will be keen to go back again, just like us. We'll see you there.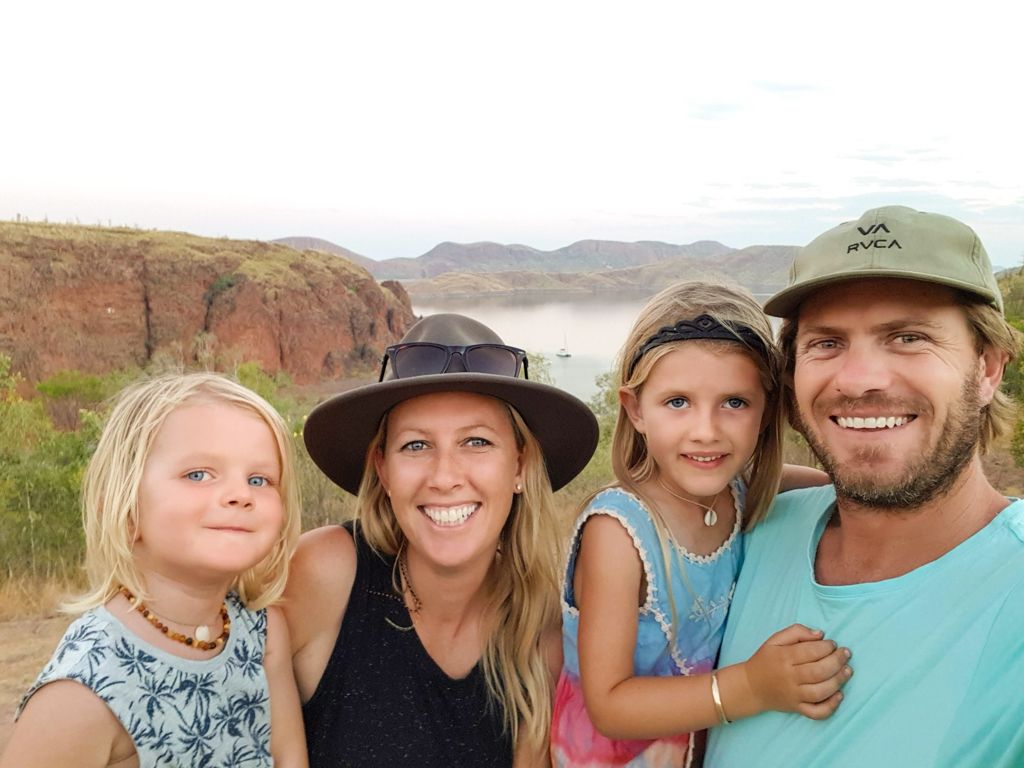 The Blonde Nomads at Lake Argyle
For more info and family travel inspiration visit the Blondies blog at www.theblondenomads.com.au or follow their social accounts @theblondenomads.